Masatoshi Kuriaki Rescued from Mount Hunter – April 3, 2016 via nps.gov
TALKEETNA, AK: Denali National Park and Preserve rescue personnel conducted a short-haul helicopter rescue of a stranded climber on Mount Hunter (14,573-feet) on Sunday afternoon, April 3. Masatoshi Kuriaki, age 42 of Fukuoka, Japan, was evacuated from an elevation of 8,600 feet on Mount Hunter's West Ridge climbing route. He was on Day 75 of a planned 65-day solo expedition.
Denali National Park and Preserve's Communications Center received an SOS notification at 7:30 a.m. on Friday, April 1 from Kuriaki's SPOT unit, a device which provides GPS tracking and limited one way emergency communication. Denali mountaineering rangers then requested initial assistance from the Alaska Rescue Coordination Center. At 10:00 a.m. that morning, the Alaska Air National Guard launched an HH-60 Pave Hawk helicopter from the 210th Rescue Squadron and an HC-130 King aircraft from the 211th Rescue Squadron, each with a team of Air National Guard Pararescuemen from the 212th Rescue Squadron. Marginal weather prevented the Pave Hawk crew from approaching Mount Hunter; however the crew aboard the HC-130 was able to make positive radio contact with the stranded climber at 10:30 a.m. on April 1.
According to the radio communications on Friday morning, Kuriaki was uninjured, but was requesting emergency assistance; he had 2 days of food left, 3 to 4 days of water, and an adequate snow shelter. In addition to his SPOT device, Kuriaki had an aircraft radio which enables communication with nearby aircraft.
Avalanche danger was considered high to extreme on all mountain aspects. A recent winter storm cycle had brought unusually warm and wet weather conditions to Southcentral Alaska. Reports from backcountry users indicated that at least 30 inches of new snow fell at mid elevations of the Alaska Range through Thursday of last week, with over a foot of additional snow accumulation through the weekend.
Continued storm activity prevented additional rescue flights the remainder of Friday and all day Saturday. By Sunday, April 3, Denali National Park's contracted AStar B3e high altitude helicopter was available as an air resource. Helicopter pilot Andy Hermansky flew to the Kahiltna Glacier with Denali mountaineering rangers Chris Erickson and David Weber at 12:00 p.m. Sunday under clearing skies. Kuriaki was short-hauled from his camp on Mount Hunter down to the glacier below in an external rescue basket. The pilot, crew, and climber then flew back to Talkeetna.
Masatoshi Kuriaki is extremely experienced in solo winter mountaineering in Denali National Park and Preserve. According to park records, this is his 19th expedition in the Alaska Range, 17 of which were solo winter climbs. This season's attempt is his ninth winter solo expedition on Mount Hunter. Kuriaki has attempted Denali (20,310 feet) four times in winter, including a successful winter solo ascent on March 8, 1998. Kuriaki has attempted Mount Foraker (17,400 feet) five times, successfully reaching the summit three times, including the first solo winter ascent of that peak on March 10, 2007.
As spring arrives, mountaineering season ramps up – April 4th, 2014 – This week, Masatoshi Kuriaki returned from his 8th attempt to climb Mt. Hunter solo in the winter. He spent sixty-six days on the mountain before returning to Talkeetna on Wednesday.  According to Park Service, Kuriaki made two summit attempts, but was turned around by ice conditions and high winds. http://ktna.org/2014/04/04/as-spring-arrives-mountaineering-season-ramps-up/



Spot tracker messages from Masatoshi's 2014 Hunter attempt displayed on a Google Map.
---
Alpinist: 11 The Sharp End: Nocturnes – December 31, 2013 – "Since then, Masatoshi Kuriaki has made a dozen winter and early spring Alaskan expeditions, including the first winter solo of Mt. Foraker. Despite the -100 degrees F wind chill, he has found joy in the contrast between illumination and shadow: the moon against the sky, the stars over the hills. "Even a tiny candle light in a cold dark snow cave at night gave me warmth, mind and body," he says."
---
Divine Wind – Rock & Ice Magazine Feb 27, 2012 – Late last winter, Masatoshi Kuriaki awoke alone, more amazed than rattled as an explosion shook the glacier beneath his tent. He listened… http://www.rockandice.com/lates-news/divine-wind
Masatoshi at Base camp
Fly with TAT – Friday, January 20, 2012
Masa is still trying to get up Hunter. This photo was taken of him at basecamp on the 9th of January….. http://www.talkeetnaair.com/_blog/Talkeetna_Air_Taxi_Blog/post….
Alone in the mountains – Masatoshi Kuriaki still chasing solo ascent – Jan 12, 2012 – Japanese mountaineer Masatoshi Kuriaki has been steadily making his approach on Mount Hunter since December 14th. It is his 6th attempt to… http://ktna.org/2012/01/12/alone-in-the-mountains-masatoshi-kuriaki-still-chasing-solo-ascent-of-hunter
---
Climber Makes 6th Attempt on Mt. Hunter – Outside Online – Dec 16, 2011 – Japanese mountaineer Masatoshi Kuriaki is back in Alaska to make his sixth attempt at a solo, wintertime first ascent of Mt. Hunter…. http://www.outsideonline.com/news-from-the-field/Climber-Makes-6th-Attempt-on-Mt-Hunter.html
---
Kuriaki spends 83 days in Alaska Range for chance to summit Mt. Hunter – by Sue Deyoe – March 25th, 2010 – http://ktna.org/2010/03/25/kuriaki-spends-83-days-on-denali-massif-for-chance-to-summit-mt-hunter/
---
Hunter 2009 – KTNA Interview (audio)
The Confessions of Captain Swallowtail: Six days with Masa Feb 3, 2009 – Masatoshi Kuriaki is a Japanese climber with a Love for one of the hardest human endeavors I can think of…. http://epiceric.blogspot.com/2009/02/six-days-with-masa.html
---
Cold climb: Foraker's solo winter ascent — Far North Science Mar 26, 2007 – Masatoshi Kuriaki summited 17,400-foot Mt. Foraker on March 10, completing the first solo winter ascent of the peak, the sixth-highest in North… http://www.farnorthscience.com/2007/03/26/news-from-alaska/adventures/cold-climb-forakers-1st-winter-ascent
Masatoshi Kuriaki Takes Foraker 2007 – Scribd Nov 22, 2007 – Masatoshi Kuriaki Takes Foraker 2007 http://www.scribd.com/doc/512243/Masatoshi-Kuriaki-Takes-Foraker-2007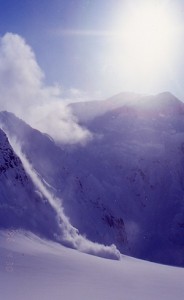 Alone on Mountain, a Japanese Climber Indulges His Love – By THE ASSOCIATED PRESS – Published: April 15, 2007 – Masatoshi Kuriaki did not linger at the summit of Mount Foraker when he became the first solo climber to conquer the 17,400-foot mountain in winter. With 34-mile-an-hour winds driving the wind chill to nearly 100 degrees below zero, the summit was too cold and windy. Kuriaki is from Fukuoka, a city of 1.3 million people in southern Japan where the mercury rarely dips below freezing. "It was cold," Kuriaki said when asked what went through his mind when he finally reached the top of North America's sixth-highest peak, next to the more famous 20,320-foot Mount McKinley in Alaska, the tallest peak on the continent. "I am tropical people. I don't like the wind." Strange words from a man who puts himself in some of the windiest, coldest places on the planet. His reasons are simple. "I love the climbing," said Kuriaki, who likes to compose haiku and read poetry while attempting some of the most difficult climbs in the world. "I love the Alaska Range mountains. I love to see the northern lights." Kuriaki reached the Foraker summit at 5:03 p.m. on March 10 and…. http://www.nytimes.com/2007/04/15/sports/othersports/15climb.html
Japanese climber is high on Alaskan peaks – Los Angeles Times May 13, 2007 – Masatoshi Kuriaki didn't linger at the summit of Mt. Foraker when he became the first solo climber to conquer the 17400-foot mountain in winter….. http://articles.latimes.com/2007/may/13/news/adna-solo13
---
Climbs and Expeditions: Alaska – The American Alpine Journal, 2002 – Mt.Foraker, southeast ridge, winter ascent. On the morning of February 8 I departed base camp (6,550′) on the southwest fork of the Kahiltna glacier. I made Camp at 6,400 feet below the base of the southeast ridge in the evening. My route….. https://www.japanesecaribou.com/climbs-and-expeditions-alaska
---
The words of Masatoshi Kuriaki – The Journal of the Japanese Alpine Club – December 1998 – February 13th, 1998. 1 was standing alone on the dark Kahiltna Glacier. Because daylight is short and the sun's position low in winter, no sunshine reaches Kahiltna Base Camp (2,130 m) during winter. The weather was fair with a weak southwest wind, temperature at -20ºC. I could hear the sound of an avalanche occurring at the Northeastern Wall of Mt. Foraker…. https://www.japanesecaribou.com/masatoshi/the-words-of-masatoshi-kuriaki